Regular price
$1,799.99
Sale price
$1,599.99
Unit price
per
Sale
Sold out
The Demon 2.0R kit combines our popular Demon 2.0 with a new RKP truck drive train designed by Boadnamics. The kit also features new upgraded electronics for a increased performance. The result is the most powerful, stable, fun Demon to date.
Limited Quantities Available!
Specs:
Top Speed: 36 MPH
Range: Up to 32 Miles (Avg. of 26 miles)
Hill Climbing: Any Hill
Max Motor Power: 7,000W
 Weight: 26 Pounds
What's New:

Custom Boardnamics RKP truck drive train
Riptide Barrel Bushings
Stormcore 60D Plus VESC based ESC
BMS Bypassed for discharge
105mm MAD Wheelz
6374 190KV Motors
What's Included:
1 X set of 105mm MAD Wheelz
1 X Vestar Blackhawk Deck
1 X CNC RKP Trucks
1 X 12s3p Samsung 40T Battery
1 X 12s 3A Charger
1 X Stormcore 60D Plus VESC based ESC
1 X VX2 Pro Remote
1 X Enclosure
2 X 6374 170KV Motor
2 X Motor Mounts for RKP Trucks
2 X Belt Covers
2 X Boardnamics 40T Aluminum KEGEL Wheel Pulley
2 X 15T Motor Pulley
2 X 295mm 5M 15mm belt
Truck hardware
Motor Mount Hardware
Enclosure threaded lock nuts and bolts
Bearings
Not Included:
Grip Tape - We do not include grip tape so that riders can add their own custom designs
Weatherstrip
Note: We only ship kits with batteries within the United States. If you are an international customer we can only sell the kit without the battery. Please reach out to us for a custom order if this is the case.
Share
View full details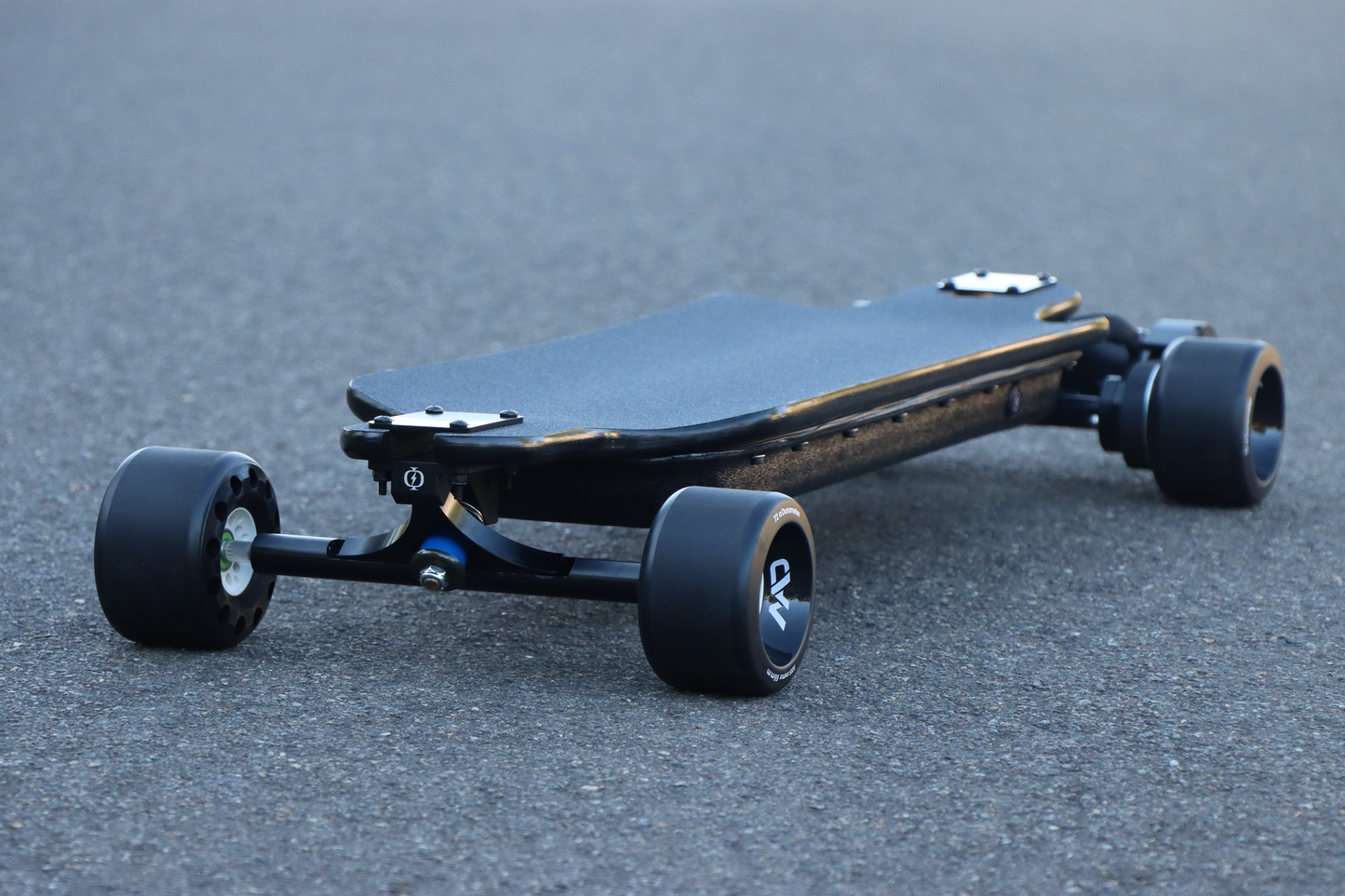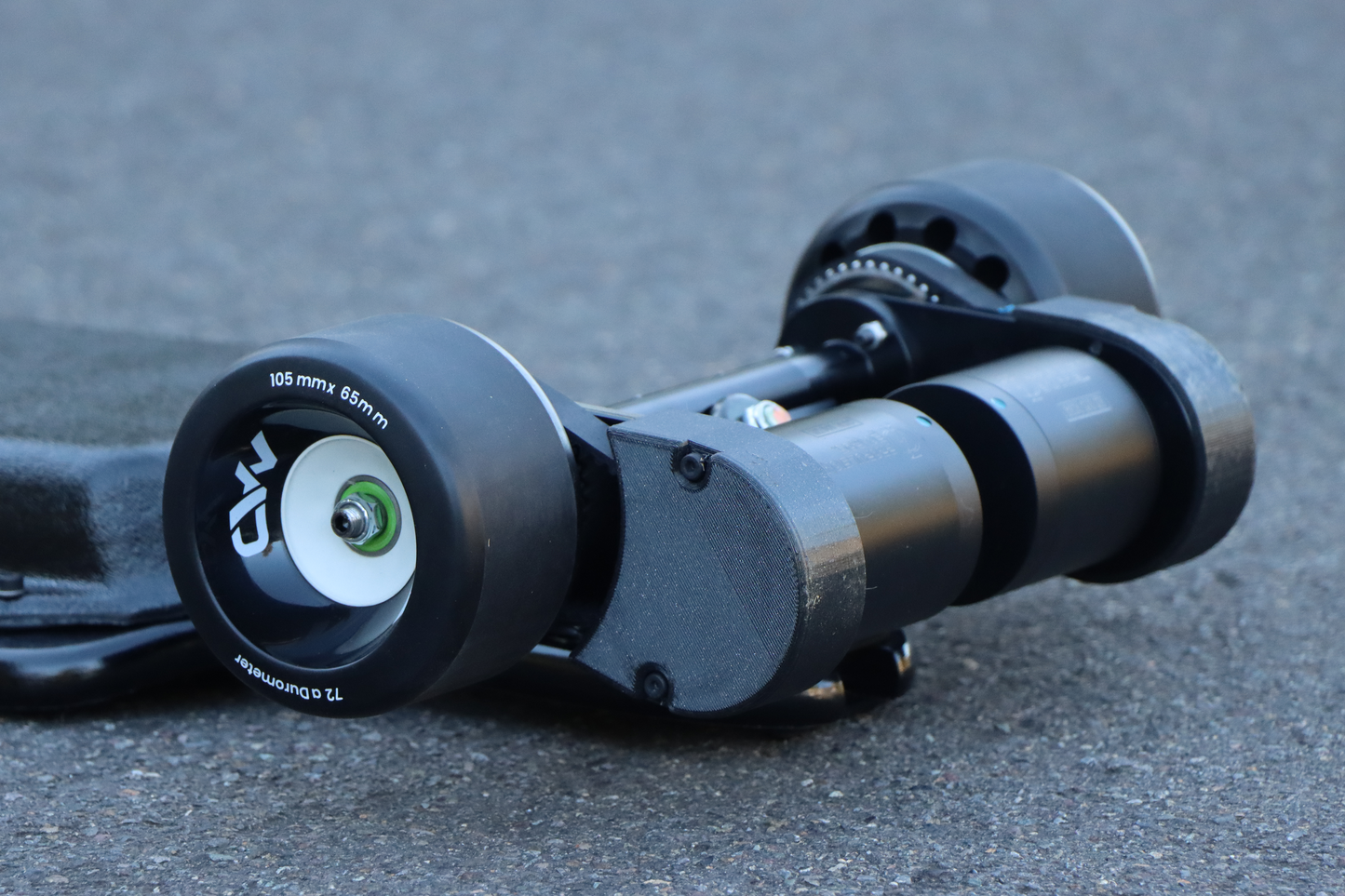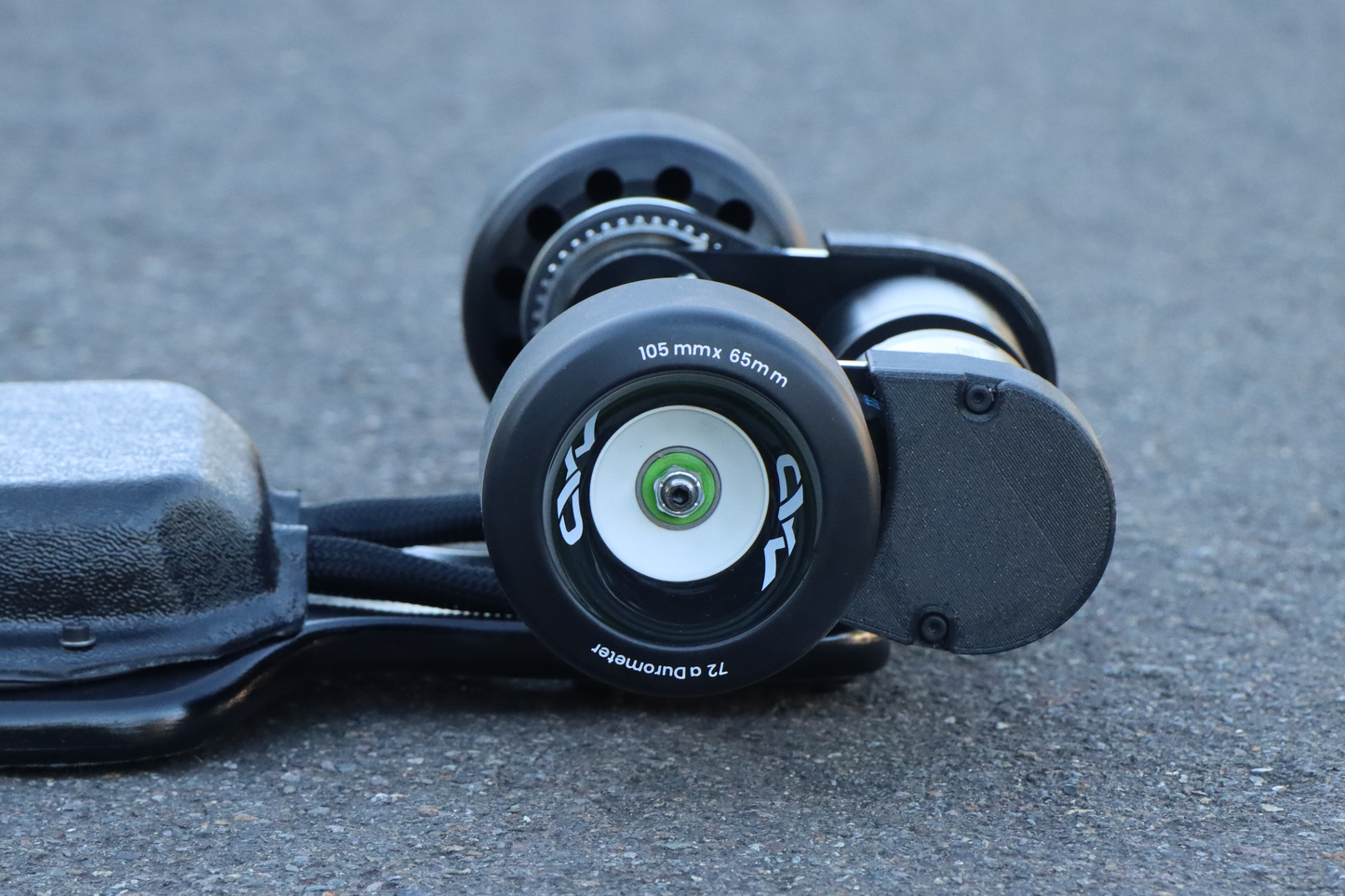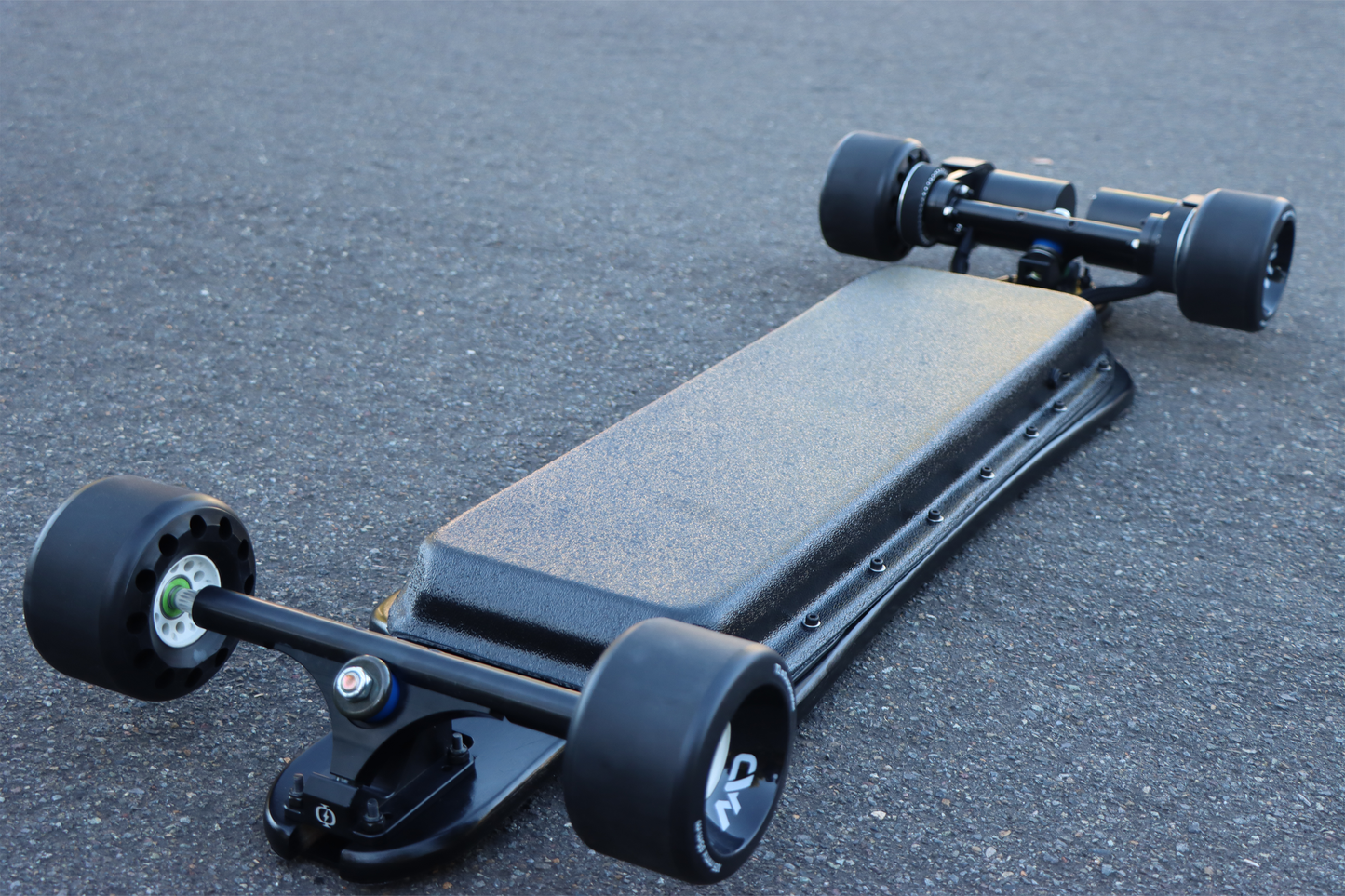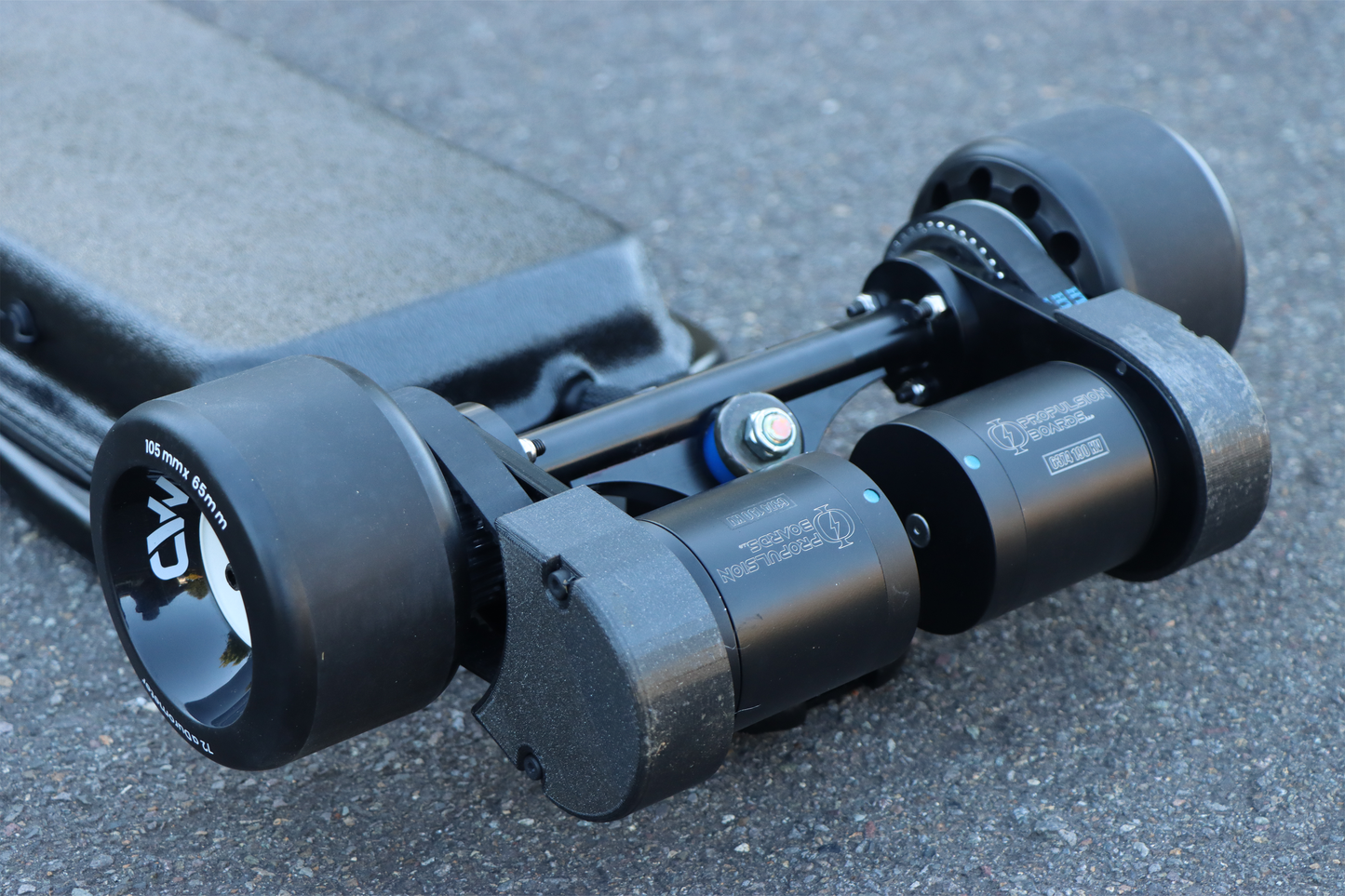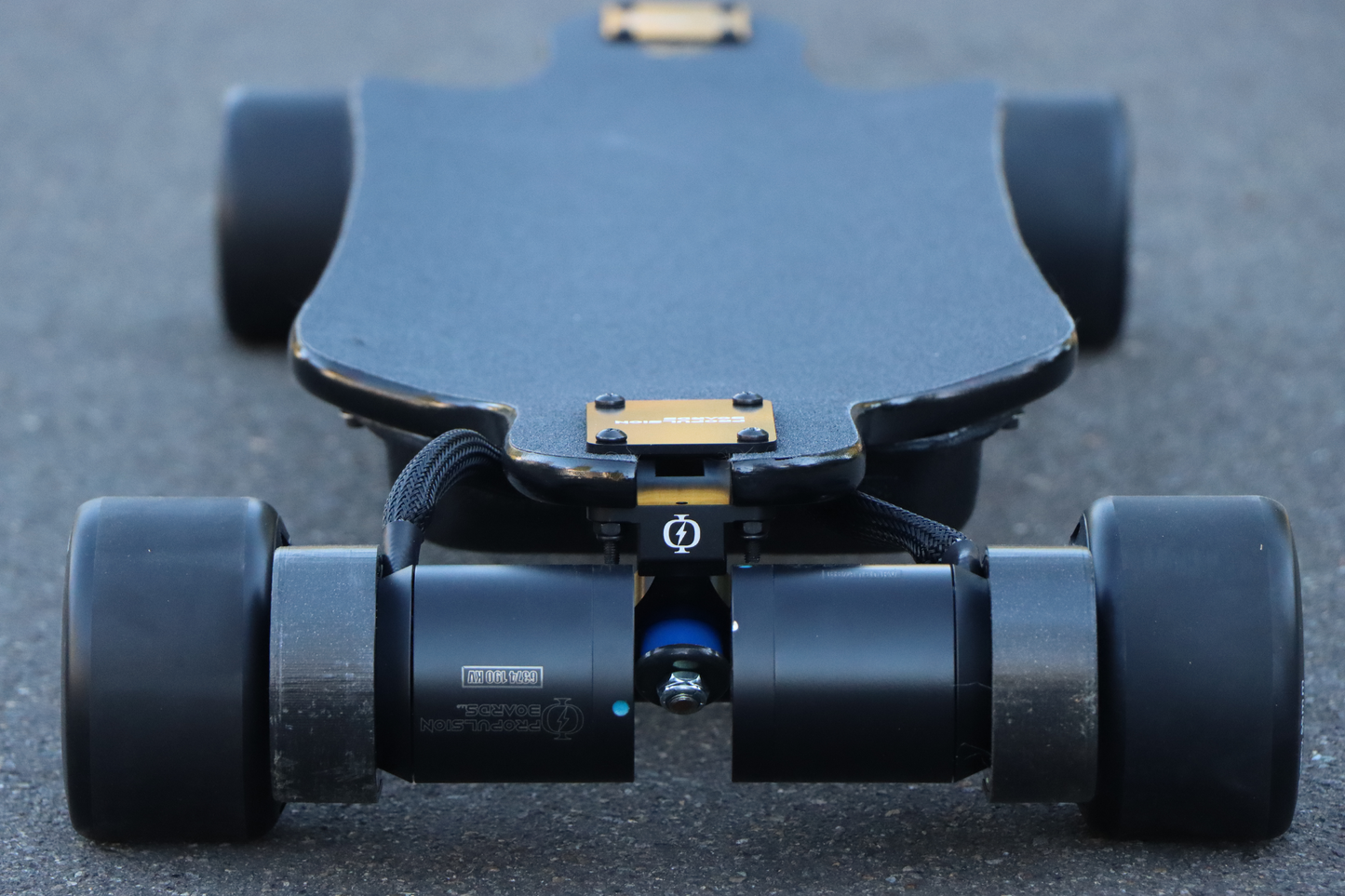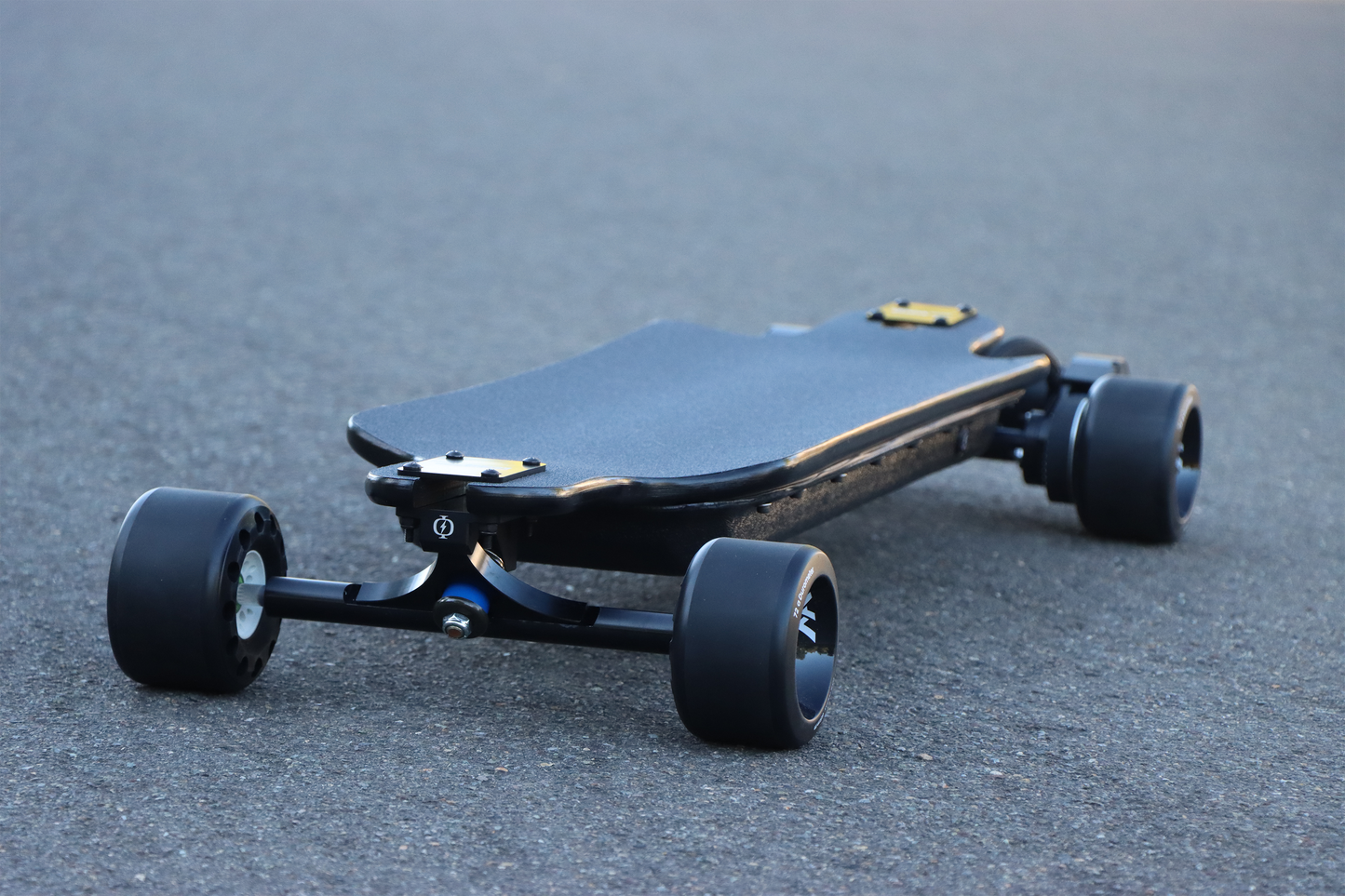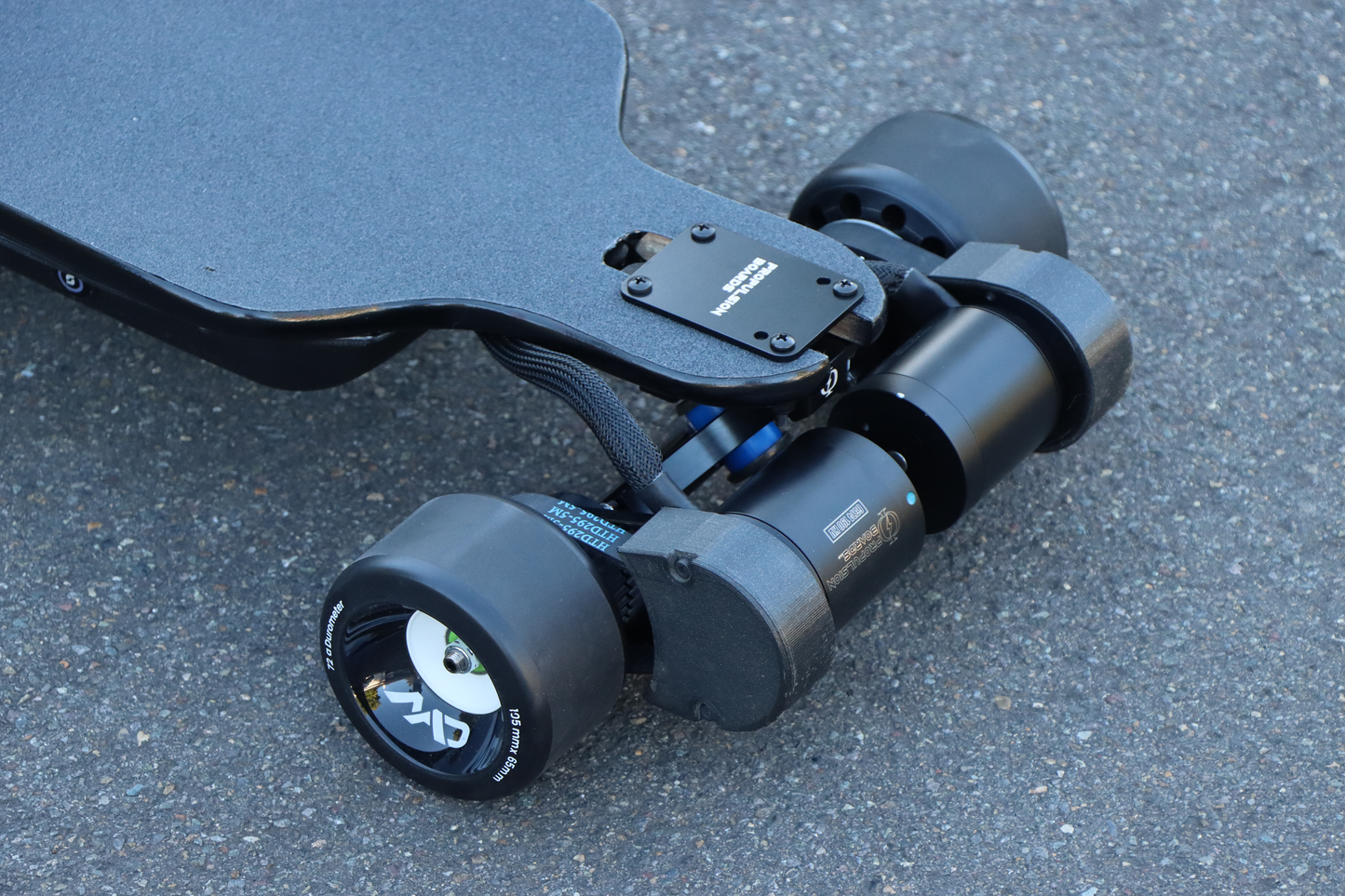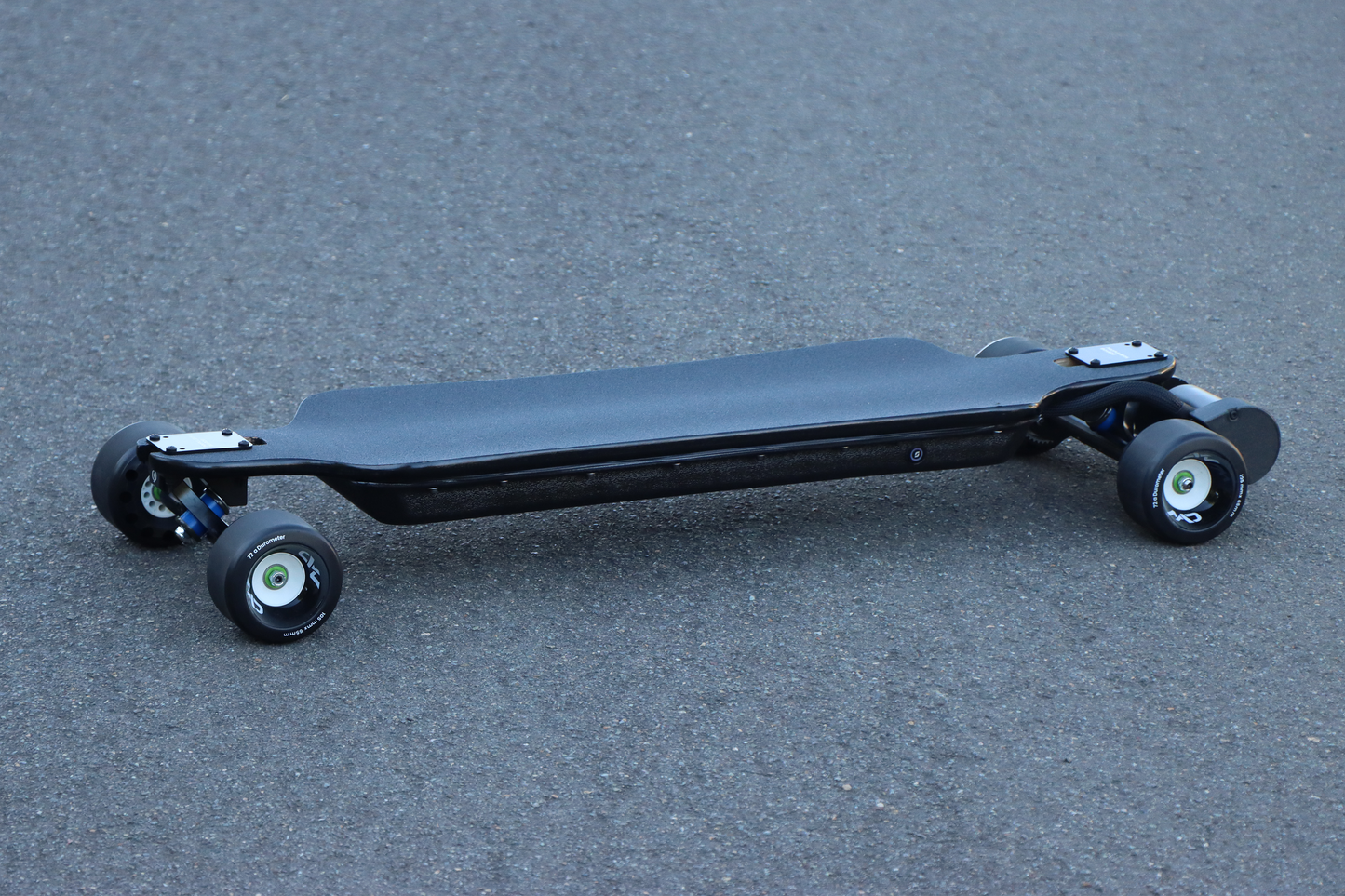 Best purchase I have made yet
The Demon 2.0 R kit is the best purchase I have made. I purchased the kit in Nov 2022. I did have some issues with my order at first-- I was sent the wrong pulleys/mounts, but Propulsion Boards was happy to resolve this without charge.
The DIY esk8 builders YouTube channel has how-to videos for assembling the type R drivetrain and programming the VESC. It is possible to have everything assembled and programmed within an hour. I was able to program the board entirely using the android VESC tool. Though it costs $3.99, it oddly works faster over Bluetooth than using the USB cable. Plus, it eliminates the need to open the board up to access the USB C port.
Some setup notes:
• The Mad 105 mm wheels actually have a diameter of 102 mm, so 102 mm is the number that should be used for wheel diameter when programming the VESC.
• Make sure to put the included sleeves (or some heatshrink tubing) on the motors' bullet connectors. I had the misfortune of a bullet connector coming out during a ride because I failed to do so. I had been going 30 mph and was unable to use the remote to brake, so I had to swerve out into the oncoming traffic lane. I got as close as I could to the sidewalk on the other side and coasted until I could run off of the board.
Now, let's talk business:
As of Apr 26, 2025, I have put 1000 street miles on the board. It is an absolute beast. My last board was a Backfire G2 Black with hub motors. The Demon 2.0 Type-R blows that board out of the water. I had no idea how much torque I was missing out on.
I weigh 130 lbs, and with the stock wheel pulleys, I get to the max speed of 36 mph within a couple of seconds. If I have a car next to me at a stop, I generally leave them behind in the dust when the light goes green and stay ahead if they're following the speed limit. Even uphill, this board shreds. There's a significantly uphill bit of a ride during my work commute, and I get around 33 mph with the stock 40T wheel pulleys.
There are a couple of negatives. The motor covers of this type R kit are pretty weak plastic. They cracked from the pressure of putting the screws in before being anywhere near the correct torque. One also completely shattered when I accidently dropped my board from 1 ft up on its side. Thankfully, replacement parts were made available on the website when I asked about them.
Another very minor nitpick is that the enclosure doesn't fit perfectly--it has a slight protrusion past the neck of the board in one spot. It doesn't stand out too much, but it'd be nicer if it was symmetrical.
Now, let's talk mods.
Because the kit utilizes a VESC, I am able to use VESC-based accessories. I've got the Davega X display on for on-board telemetry. Additionally, with the solidcircuits' uSplit and Teltail Light kit, I've got headlights, brake lights, side lights, and a horn all of which can be activate via an RF remote or android app. It's a tight fit inside the enclosure with all of these accessories, but it works well.
Because the Stormcore 60D+ has a secondary UART port, one could probably put the uSplit on the primary UART port with all the accessories while keeping the remote directly on that secondary UART port, but I haven't tested this, and given some issues I've had with too many devices on the uSplit, I figured it'd probably be safer to just use a PPM remote. I decided to switch to the Flipsky VX4 for PPM control and UART only for telemetry purposes, both of which I've got on the uSplit with the TTL kit. I've got the Davega X on the Stormcore's by itself on the secondary UART port, and I haven't had any issues with this setup. With all of these accessories running, my Davega shows a range of 19 miles when fully charged. I probably get around 17 miles going full throttle the whole time.
I've additionally opted to switch to the Boardnamics 36T wheel pulley with 285 mm belts for increased top speed at the cost of acceleration/braking. I get 39.6 mph on flat surfaces and 40 mph if I'm going downhill enough. Surprisingly enough, I my uphill speed has also increased to 35-37 mph in places I would get 33 mph with the stock 40T wheel pulleys. The increased speed is worth it for me, but please note that braking power has significantly decreased, maybe by 25%. I have to plan to stop WAY earlier. I've been fortunate thus far in emergency stops, but they are noticeably slower/harder. I haven't properly tested to see how much my range has decreased compared to the stock pulleys as this is a relatively new setup for me.
All in all, I am absolutely blown away by this kit. Though the motor covers are weak and the enclosure isn't a perfect fit, the board still has a wonderful aesthetic, is incredibly powerful, and is significantly more customizable than pre-builts in this price range. I would STRONGLY recommend this kit from Propulsion Boards for anyone wanting to upgrade from an entry level board. I can't wait to see what Propulsion Boards puts out next.
Amazing BOARD, Rides like a dream
I was the first customer to receive the SKP CNC trucks! First, they look amazing, Anything cnc is a bit like art lol. Second, They are very precise at high speeds.
The torque is insane, I'm used to riding other boards at 70%+ Throttle but yeah not this one. The range is crazy too. The deck is the perfect size and feel for me (185lbs, size 14 Shoes). The 110mm wheels are great, and take away the harshness of the road without degrading the sports car feel.
Perfect board in my eye especially after you change the acceleration ramp-in to 0.25s(more responsive throttle and more linear between throttle and brake ramp feel) and the brake current to 60A(prevents lock-up) also drop the remote curve to -10% on acceleration and braking(easier when weaving between pedestrian at slow speeds)
Customer service is amazing too, had a warranty issue and they rectified it right away.